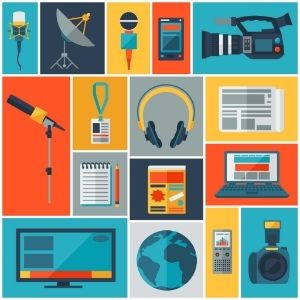 PIRATES Annual State of the Media Workshop
Three back-to-back panel discussions will be featured during this special three-hour program to address trends and opportunities working with television, radio, news service and newspaper newsrooms and community affairs operations. Bring your questions and challenging situations for an engaging dialogue.
Panelists are still being booked and will include the following:
Hans Laetz,

Weekend Editor, City News Service

Laura Nickerson,

Host, The Buzz, The Calabasas Channel

Luis Cardenas

, Director of Programming, Latino Alternative Television

Ariel Carpenter

, Vice President, Communications, KCETLink

Kat Chung

, Community Affairs Director, 100.3 FM The Sound

LaFern Cusack

, Producer and Host, "The Experience," ESPN LA 710 AM

Ruth House

, Public Affairs Supervisor, ABC7

Gregory Johnson

, CDMC, KJLH Radio Marketing

Los Angeles News Group (Including Los Angeles Daily News, Representative TBD)

Steve Kindred

, previous news reporter/news anchor, KABC 790 AM, KFWB 980 AM, KFI 640 AM

Matt Scelza

, Director, Incite Los Angeles

Pamela Tyus, Director of Marketing and Promotions, AM870, AM590 and 99.5 KKLA
Cost:
$50 PIRATES members who RSVP by March 16 ($75 after).
$75 non-PIRATES members who RSVP by March 16 ($100 after).
Details:
Wednesday, March 18, 2015
8:30 a.m.: Check-in and light breakfast
9-10 a.m.: Radio Panel
10-11 a.m.: Television Panel
11-noon: News Service and Newspaper Panel
Location:
KCETLink Community Affairs Room, 6th Floor
2900 W. Alameda Ave.
Burbank, CA 91505 MAP
Enter on Bob Hope Drive, South of Alameda
Note: Parking is not included and not validated.
***
SAVE THESE DATES FOR FUTURE PIRATES EVENTS:
April 15, 2015: Sports Personalities and Non-Profit Partnerships
May 20, 2015: Crisis Communications Planning
June 17, 2015: Annual Media Mixer
July 15, 2015: Charity Navigator, Guidestar and Online Ratings
September 16, 2015: Public Broadcasting: Television and Radio
October 21, 2015: Communicating with Diverse Audiences
November 18, 2015: ABC7 Vista L.A. Program Producers and NBC4
December 16, 2015: Holiday Mixer

Join today for a prorated membership through June 30, 2015 for just $40! PAY HERE via PayPal
------------------------------------------------------------------------
PIRATES Congratulates 2013-2014 Lisa Davidson Memorial Scholarship Recipient Rossini Batino!
Rossini Batino's career goal is to become a Public Health communication's professional. She has never given up on herself because she believes that her "career goal has the potential to influence a system of health communication, anywhere in the world." She also understands "the purpose of this scholarship is to recognize students 'who have excellent potential for improving lives of people in Southern California through a communications career'.'' Rossini explains she is "pursuing a career in health communications where communication is the core of effective public health system – that would not only improve the lives of people in Southern California but also anywhere where health is valued."
Here is how Miss Batino answered the question, discuss your view of the communications industry and its role in today's society?:
"The communication industry is the core of civilization. The communication industry changes rapidly as the society changes and as the technology advances. Mass communication media such as television, radio broadcasting, online communications, public relations, motion pictures and etc; have allowed us to instantly transmit information worldwide. This is a powerful and crucial tool in creating bonds, having our voices heard and most importantly promoting awareness regarding global issues such as social, political, and environmental issues. The communication industry is our external senses that allow us to access information about what's happening around us. It's hard to imagine our every daily lives without online communication, for example. Knowing that we are oblivious to the events around us can increase our anxiety and confusion. Globally, imagine the status of international trade without the communication industry – it's almost improbable! The marketing industry and other business companies heavily depend on the communication industry. WE, as citizens, depend on communication media to keep us inform and alerted. With that said, I believe that communication is what is keeping our society functioning and in order - for that matter - it is the spine of the 21st century."
Rossini recently transferred from Orange Coast College to attend University of California, Irvine (UCI) as a junior, with a 3.94 grade point average. Her major is Public Health Science with emphasis on Public Health Global Communications. Currently she works for 24 Hour Fitness as a Kids Club Attendant / Service Representative and enjoys the children. She is also a private tutor for a 6-year old with mild ADD. She assists the child with writing, reading, counting and "cool" science experiments. Additionally Rossini is a Clinical Care Extender Intern at Hoag Presbyterian Hospital in Newport Beach. She assists the nurses and patient care assistants in attending to the patient's needs.
PIRATES (Print Interactive Radio & Television Educational Society) is dedicated to helping nonprofits to more effectively work with the media. It is the only L.A. area association that offers regular opportunities for nonprofits, the media, and other communications professionals to network.
PIRATES
c/o CityTV
1654 19th Street
Santa Monica, CA 90404
2014 – 2015 Application Process
:

New scholarship applications will be posted and accepted starting in March 2014. Application deadline is May 31, 2014
**************************
Lisa Davidson Memorial Scholarship Application Deadline is May 31, 2012
More info: http://piratesla.org/scholarship.html

A Gift From The Ad Council!

PIRATES 11/10/10. Attendees not in order: Debra Evans, (Walden House); Susan Evans ( East LA Partners For Change); Jane Garcia (Women In Film); Robin Gee (CityTV); Louis Gross ( Shriners Helping Kids); Erin Handelman ( So CA Foster Family & Adoption); Meg McDonald (McDonald Media Services); Esther McDowell (LA County/Women's Health Dept); Genevieve Riutort ( Westside Food Bank); Philip Sokoloff (Public Relations); Brenda Vazquez ( Partners In Care); Andy Weisser (Public Relations); John Boal (Ad Council) and LaFern Cusack (SCBA).
Twitter: @PIRATESLA
PIRATES
c/o CityTV Studio 16
1654 19th Street
Santa Monica, CA 90404
Tel: 800 PLANK (15)
As a non-profit organization every dollar counts! If you reserve via phone, email or website and fail to attend, you will be billed. You can pay ahead of the meeting via the online links below or pay with cash or check at the door. Exact change is appreciated.
Sign up to get updates on PIRATES events:Online Form Maker